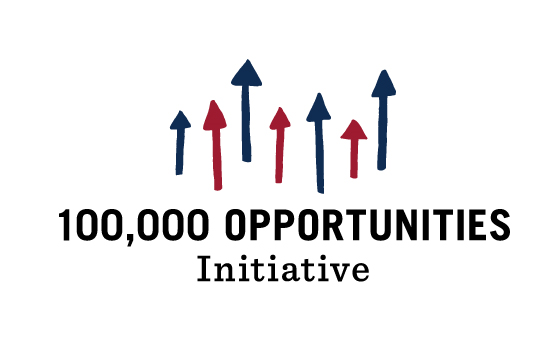 100,000 Opportunities Initiative and 100,000 Opportunities Demonstration Cities Overview

Background: The Issue
There are currently 5.5 million youth between the ages of 16 and 24 – known as opportunity youth – who are out of school and not working and who face systemic barriers to jobs and education in the United States. At the same time, there are 3.5 million unfilled jobs in the United States. Many of these jobs do not require a four-year degree – sometimes called middle-skill jobs – and they make up the largest part of the unfilled labor market. For employers looking to fill these jobs, young, motivated workers are a vital and untapped resource.
The current dearth of skilled workers is in part due to the challenge of reconnecting a segment of opportunity youth to employment pathways. Although national and regional efforts to bridge the supply of opportunity youth with the demand of local labor markets have made progress, the opportunity remains to build upon and deepen these efforts. Due to limited alignment between education and employer-led workforce development initiatives, opportunity youth have consistently been on the wrong side of the opportunity divide. Young people are often unaware of the steps they need to take to pursue and secure meaningful work.
Solution: The 100,000 Opportunities Initiative
To maintain global competitiveness, the United States must grow a talent pipeline that successfully connects youth and young adults to the jobs of the future. As part of a robust economic development strategy, employers, system leaders, and other community stakeholders – including young people – must work together across systems and across sectors to deepen the knowledge and professional preparedness of the future workforce, while also closing the talent gap for the corporate sector.
Launched in July of 2015, the 100,000 Opportunities Initiative is rapidly becoming one of the largest employer-led youth focused coalitions in the country. The partnership of national leaders, companies, innovators, and foundations seeks to create more pathways to economic prosperity for opportunity youth and connect employers to the talent pipeline they seek. The 100,000 Opportunities Demonstration Cities effort will develop a comprehensive strategy to create and scale this work in a subset of American cities.
Overview of the 100,000 Opportunities Initiative Employer Coalition and Commitment
The 100,000 Opportunities Initiative is committing to create the pathways young adults need to build skills, attain credentials, and ultimately secure a job. Companies engaged in the coalition will help to launch careers for young people who are just entering the workforce through internships, apprenticeships, and on-the-job training opportunities. These companies have joined together and are operating with the belief that with the right skills and training, opportunity youth represent an unrealized pipeline of talent and an economic engine that can be ignited. The coalition has the collective goal of engaging at least 100,000 Opportunity Youth by 2018 through apprenticeships, internships, and both part-time and full-time jobs.
Companies committing to the 100,000 aggregate goal are connected through a national campaign and ongoing partnership managed by FSG. This coalition of employers aims to put youth and young adults on a pathway to career attainment with family-sustaining wages and to establish that opportunity youth represent a vital, unrealized pipeline of talent.  To support the coalition in working toward these goals, members commit to convene regularly to share best practices and key strategies for successfully employing and retaining opportunity youth. Together, they also commit to track and report the number of youth engaged in apprenticeships, internships, part-time and/or full-time jobs.
To date, 29 major companies have joined the 100,000 Opportunities Initiative. Founding companies include: Alaska Airlines, Chipotle, Cintas, CVS Health, Domino's, FedEx, Hilton Worldwide, HMSHost, Hyatt, JCPenney, JPMorgan Chase, Lyft, Macy's, Microsoft, Nordstrom, Pizza Hut, Porch.com, Potbelly Sandwich Shops, Prudential, Red Robin, Starbucks, Sweetgreen, Taco Bell, Target, Teavana, T-Mobile, UNIQLO, Walgreens, and Walmart, with additional companies preparing to announce their participation, and with dozens more participating at the local level.
Overview of the 100,000 Opportunities Demonstration Cities
Many national member companies and private foundations are joining forces with the Aspen Institute's Forum for Community Solutions. To date The Joyce Foundation, JP Morgan Chase Foundation, WK Kellogg Foundation, John D. and Catherine T. MacArthur Foundation, Prudential Foundation, The Rockefeller Foundation, Schultz Family Foundation, Starbucks, Walmart Foundation and others have joined the 100,000 Opportunities Initiative, committing their support to the Demonstration Cities effort to scale-up employer-led pathways in a subset of American cities. These Demonstration Cities will be essential to supporting the national goal of creating more than 100,000 new opportunities for deserving young people across the country.  Launching in Chicago, Seattle, and Phoenix and joined by New York and Los Angeles (and likely New Orleans) in a national learning community, the demonstrations will consist of four key strategies:
Commitments and call to action from local employers – A number of large employers with a local presence will coalesce to set a substantial goal for employing former opportunity youth. This local call to action will be amplified by the aligned voices of local elected leaders – including mayors – and by the national campaign.
Systems alignment and coordination across sectors – A highly effective local backbone organization will manage and convene a cross-city and/or county collaborative that connects multiple public systems (and public revenue streams), CBO providers, private funders, and local employers in order to align the supply of young workers with the demand of local employers. In doing so, these "collective impact" efforts will generate greater access to employment opportunities for young adults who are too often on the wrong side of the opportunity divide, including boys and men of color, immigrant youth, and young people aging out of the child welfare system. Alignment efforts are already underway in these cities, creating a moment of high leverage and public sector commitment for scaling pathways to real jobs for employment-ready opportunity youth, and other underemployed populations. Participating cities will access centralized supports including best in class training, technical assistance and coaching, and design support for employer-led and market-aligned pathways.
Innovation and acceleration – Local collaboratives will partner with best-in-class innovators – such as Leaders Up, Arizona State University (ASU), YouthBuild USA, and Remit (UK) – to design effective employer-led pathways (e.g., that integrate needed training or education with employment), and to rapidly create prototypes for replication and scale. This work will be supported by a pooled grant-making fund managed by Aspen that aggregates investments from national and local funders of the 100,000 Initiative.
Codify and share lessons learned for large scale adoption and impact – The cities involved in this demonstration effort will be connected to each other through a national learning community. As part of the learning agenda for this work, Aspen and its partners will codify effective innovations in the development of accelerated employer-led pathways and design a "playbook" for other cities and companies to use in their efforts to close the talent gap and to bridge the supply of low income opportunity youth with the demand of local labor markets.
Role of Intermediaries
FSG will provide ongoing oversight and management of the coalition, including managing coalition communications, responding to inquiries and integrating new members; convening Human Resources specialists from coalition members and designing learning sessions in order to improve practice; and collecting and reporting data on progress towards the goal of employing 100,000 opportunity youth by 2018.
Aspen Forum will provide direct leadership and programmatic support for the Demonstration Cities and the Learning Communities. To support Demonstration Cities, Aspen Forum will work with national best-in-class technical assistance providers (Jobs for the Future, Skills for America's Future, Grads of Life, and others) to design and implement a national learning agenda that will include two annual convenings, strategic planning site visits, a peer learning community, and the provision of coaches and other implementation supports. Learning Communities will be integrated into the national learning agenda, as well as receive guidance on the strategic design of employer-led pathways.
Aspen Forum and FSG will work closely to integrate and align these activities, including convening the 100,000 Demonstration Cities Leadership Group that will engage in strategic discussions to provide input on key activities and issues for the 100,000 Opportunities Initiative.
100,000 Opportunity Initiative Chicago Launch
The 100,000 Opportunities Initiative will launch in Chicago on August 13, 2015 by hosting one of the nation's largest hiring fairs for opportunity youth, the Opportunity Fair & Forum. The event will demonstrate the power of the coalition to make immediate impact in the lives of young people, businesses, and the Chicago community, and serve as a catalyst for hiring and training efforts across the nation. The Opportunity Fair is expected to result in up to 500on-the-spot job offers from over 20companies, including the founding coalition members, and to ultimately catalyze the hiring of a significant number of Chicago youth over the next 18 months.
The Opportunity Forum will engage local community-based organizations in providing resources – including on-the-spot mentorship and feedback, mock interviews and training for job readiness, college prep, volunteer opportunities, and internships – to over 2,000 opportunity youth and their support networks. The Forum will be hosted by Grammy and Academy Award winning performing artist and actor Common who will lead an open discussion with young people and their support networks focused on economic opportunity in America. Joining Common on stage will be special guests, entertainers, and speakers.
In addition to the national coalition members, employers, funders, and community-based organizations, key local partners include the City of Chicago and Mayor Rahm Emanuel, the Chicago Cook Workforce Partnership, Thrive, and other Chicago organizations and coalitions serving youth.
For more information, please visit www.100kOpportunities.org.
For More Information
100,000 Opportunities Initiative: Please contact Katherine Errecart, Director, FSG at Katherine.Errecart@fsg.org.
100,000 Demonstration Cities: Please contact Monique Miles, Deputy Director, Aspen Forum for Community Solutions and Director, Opportunity Youth Incentive Fund at Monique.Miles@aspeninst.org.