Tackling the Global Crisis of Youth Unemployment
We are experiencing the largest youth population in history – there are 1.8 billion young people living on the planet, of which 85 percent live in developing economies and in fragile states. According to International Labor Organization (ILO) estimates, there are more than 350 million youth who are out of school, not employed or working in informal jobs and 145 million young workers living in poverty. Despite consistent issue-focused funding over the last two decades and the introduction of several high-profile global campaigns to tackle the problem, domestic efforts to address the challenge are unable to scale-up quickly enough to support the rapidly growing cohort of working-age youth in need of jobs and income.
The Global Opportunity Youth Network (GOYN) is a global initiative catalyzing systems shifts for youth opportunity in communities around the world through the creation of sustainable economic pathways. We're working to improve quality of life for "Opportunity Youth" — young people aged 15-29 who are out of school, unemployed, or working in informal jobs.
GOYN is a multi-stakeholder initiative anchored by The Aspen Institute Forum for Community Solutions with partners Prudential, Global Development Incubator, YouthBuild International, and Accenture.
Over the next five years, GOYN aims to:
Create a global network of GOYN communities working to create systems shifts to improve youth employment and life outcomes through cross-sector collaboration.
Partner with community leaders to achieve a 10% tipping point of change that directly creates access to at least 250,000 economic opportunities for opportunity youth.
Generate multi-million dollar philanthropic funds matched by country donors to scale sub-national systems interventions. Support communities to make a compelling business case for investment.
Build the global evidence base and drive adoption of digital platforms that have the potential to shift outcomes at greater scale. Support communities to access and build data and evidence to understand 'what works'.
Engage Opportunity Youth in co-designing solutions in their communities and to reshape an asset-based framing of this generation of young people that underscores the systemic, rather than individual, nature of challenges youth face.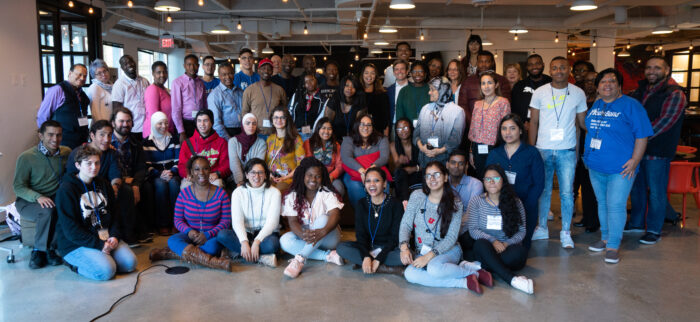 What We've Been Doing
Global Learning Visit Series: In 2018 GOYN leaders traveled to communities in Kenya, India, Colombia, and South Africa to host co-design workshops, visit youth employment interventions, and gather feedback on the initiative blueprint. We learned a great deal about how communities work together to create positive change for youth, and the obstacles they face in creating scaled solutions that reach all young people — including the most vulnerable.
Global Opportunity Youth Convening: GOYN hosted a convening in Philadelphia that brought together 24 youth from 14 different countries with the aim of understanding their experiences and perspectives, and supporting them in building motivation and skills to drive change.
Phase 1 Community & Anchor Partner Selection: In 2018, GOYN conducted a comparative study of 30 global communities to determine those most suitable and ready to implement a place-based systemic change approach. The first three communities and Anchor Partners are:
Round 1 Collaborative Building and Planning: Pilot communities have begun building multi-stakeholder collaboratives composed of community leaders from private sector, civil society, government, and youth. With support from GOYN Design Partners, these collaboratives are in the process of:
Developing a 5-year vision for the community
Mapping systems, stakeholders, and interventions
Conducting in-depth research and data collection to inform problem analysis
Identifying a suite of priority interventions and systems changes that will accelerate youth economic opportunity at scale
Round 2 Community Selection: From August to December GOYN is evaluating communities for participation in "Round 2" of global network activation. Communities being considered include Brazil, Jordan, Mexico, South Africa, and a rural community in India.
 Voices of the Global Opportunity Youth Network
"Young people in Mombasa have tremendous potential but many youth interventions are short-term and do not address underlying problems. We're making long-term investments and working with the community to understand the systemic nature of the unemployment challenge, with youth themselves playing a key role in identifying barriers and developing contextually relevant solutions."
– Atrash Ali, Area Manager, Aga Khan Foundation East Africa
"GOYN challenges and propels us towards deep and authentic collaboration. This work involves a meeting of minds and hearts from different entities for common purpose, and that is what is most exciting to me because the possibilities for impact become limitless."
– Ruchi Mathur, CEO Pune City Connect
"We're learning the importance of diverse cross-sector participation through bottom-up discovery, planning and co-design. GOYN Bogotá has started building a shared understanding of the causes and drivers of youth unemployment as a community, and future interventions will be selected based on the collective experience and knowledge of more than 170 participating organizations." - Daniel Uribe Para, Executive Director, Fundación Corona

Since it's inception at a global youth employment leaders meeting in Bellagio in 2017, GOYN has engaged with 500+ stakeholders around the world including a diverse range of civil society actors, policymakers and government ministers, foundation leaders, investors, bi-laterals, and importantly, many inspiring opportunity youth. Many of you have supported GOYN already – from generously co-hosting workshops to participating in interviews and sharing research and data.
Thank you for your support to date and for your continued engagement as GOYN begins to take shape around the world.
– Jamie McAuliffe, GOYN